Butterfly attracting plants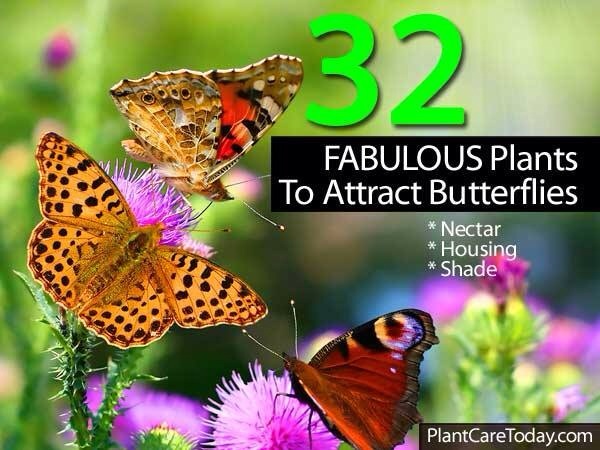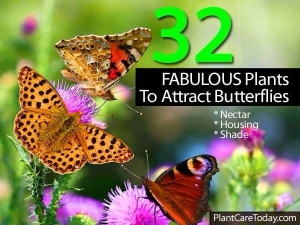 Butterflies use plants in different ways during their life cycles. Host plants provide shelter for butterfly eggs and food for growing caterpillars. Many butterfly species have only a few or even just one plant that they will use to lay their eggs and support their offspring. Most herbs make excellent host plants. Nectar plants produce various kinds of flowers that provide liquid food for adult butterflies.
If you want to attract butterflies that are just passing through, nectar plants will be enough to bring them in for a visit. Host plants will give the butterflies a place to put down roots and raise a family. The list of butterfly-attractive plants that follows has a couple of weeds that also host butterflies. They're followed by an asterisk (*) and have no hardiness information. Although you probably won't go out of your way to plant them, we've included them because they might be in your garden already. If you let a few of them grow, they may be host to butterflies you want to help out.
Nectar plants
Plant Name Botanical Name Type Cold / Heat
Zones
Arroyo lupine     Lupinus succulentus Annual 12 – 1
Azalea Rhododendron spp. Shrub 3 – 10 / 10 – 1
Bee balm Monarda didyma Perennial 4 – 9 / 9 – 2
Blackberry lily Belamcanda chinensis Short-lived Perennial 5 – 9
Black-eyed Susan Rudbeckia hirta Short-lived Perennial 3 – 7 / 7 – 2
Blazing star Liatris spicata Perennial 4 – 9 / 9 – 2
Button bush Cephalanthus occidentalis Shrub 5 – 10 /
Coral bells Heuchera spp. Perennial 3 – 8 / 8 – 2
Cosmos Cosmos bipinnatus Annual 12 – 1
Fiddleneck Phacelia tanacetifolia Annual 12 – 1
Flowering tobacco Nicotiana sylvestris Annual 12 – 1
Foxglove Digitalis spp. Biennial/Perennial 5 – 9 / 10 – 1
Goldenrod Solidago spp. Perennial 3 – 9 / 9 – 1
Lantana Lantana camera Perennial 10 – 11 / 12 – 1
English lavender Lavandula angustifolia Perennial 5 – 10 / 12 – 1
Lilac Syringa vulgaris Perennial 2 – 9 / 8 – 1
Milkweed Asclepias spp. Perennial 3 – 9 / 9 – 1
Nasturtiums Tropaeolum majus. Annual 12 – 1
Pincushion flower Scabiosa columbaria Perennial 3 – 9 / 9 – 1
Primrose Primula spp. Perennial 3 – 8 / 7 – 3
Privet Ligustrum spp. Perennial 3 – 10 / 9 – 1
Spicebush Lindera benzoin Perennial 5 – 9 / 8 – 1
Spirea Spiraea spp. Perennial 6 – 9 / 10 – 2
Star flower Pentas lanceolata Perennial 10 – 11 / 12 – 1
Sweet William Dianthus spp. Annual 12 – 1
Texas paintbrush Castilleja indivisa Annual 12 – 1
Tickseed Coreopsis spp. Perennial 4 – 9 / 12 – 1
Turtlehead Chelone lyonii Perennial 3 – 8 / 8 – 1
Blue vervain Verbena hastata Perennial 3 – 7 / 7 – 1
Wallflower Erysimum capitatum Perennial 5 – 8 /
Yarrow Achillea spp. Perennial 3 – 9 / 9 – 2
Zinnia Zinnia spp. Annual 12 – 1
Host plants
Butterfly Name Plant Name Botanical Name Cold / Heat
Zones
Buckeye Sedum Sedum spp. 3 – 9 / 9 – 1
Dainty sulphur Marigold Tagetes spp. Annual / 12 – 1
Eastern tailed blue Alfalfa* Medicago sativa
Meadow fritillary Violet Viola odorata 8 – 9 /
Milbert's tortoiseshell Stinging nettle* Urtica dioica
Monarch Milkweed Asclepias spp. 3 – 9 / 10 – 2
Mourning cloak Willow Salix spp. 4 – 9 /
Painted lady Hollyhock Alcea rosea 3 – 9 / 9 – 1
Tiger swallowtail Poplar Populus spp. 4 – 9 / 9 – 3